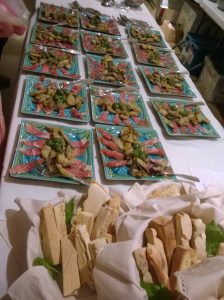 Since we began presenting feasts of historical food, the Guild has cooked many wonderful meals, from an Imperial Roman feast to a medieval French peasants supper to a banquet based on a Marco Polo-inspired journey along the Silk Road. Over the years, more information has become available about culinary history, and more cookbooks from our historical period of interest have been published and made available for scholarship. We have shifted to cooking almost exclusively from extant medieval and Renaissance recipe manuscripts. One of our primary goals is to introduce people to dishes and cuisines that have not been served for hundreds of years and show that historical cooking is not just fun, but incredibly tasty.
When preparing banquets, the Guild has always had an "open kitchen" policy. If you want to help, we'll find something for you to do. We've discovered a special camaraderie exists among those who work together in a kitchen.
Banquets by the Guild
** indicates banquets with a related pamphlet of recipes for sale. There is a slider at the very bottom of the list if the right column is not fully available.
| Year | Event | Theme | Researchers | Head Cook (s) |
| --- | --- | --- | --- | --- |
| 2021 | Athenaeum 5 - Box Lunch for 90 | English Renaissance | Eden Rain/Etienette de Montagne/Ysolt Tayler | Ysolt Tayler/Eden Rain |
| 2019 | Athenaeum II - Lunch for 140 | Egyptian - Italian Renaissance - Ottoman | Eden Rain/Etienette de Montagne/Ysolt Tayler | Ysolt Tayler/Eden Rain |
| 2019 | Arts & Sciences and Bardic Championship | 14th Century Chinese/Mongolian | Eden Rain/Ysolt Tayler/Ynesen Ongge Xong Kerij-e | Eden Rain |
| 2018 | Baronial Banquet | French | Etienette de Montagne | Etienette de Montagne |
| 2018 | Arts & Sciences Championship | Andalusian** | Ysolt Tayler/Eden Rain | Christopher Hawkins |
| 2017 | Baronial Banquet | Dutch | Ysolt Tayler/Eden Rain | Ysolt Tayler |
| 2016 | Arts & Sciences Championship | Cheese Rolling games were featured | | |
| 2015 | Kingdom Feast - the dinner course | Italian | | Ysolt Tayler |
| 2015 | Baronial Banquet | Italian from Scappi | Etienette de Montagne | Ysolt Tayler |
| 2015 | Arts & Sciences Championship | | | |
| 2014 | Baronial Banquet | 14th Century Cairo | Eden Rain | Eden Rain |
| 2014 | Arts & Sciences Championship | Late Period Spanish** | Ysolt Tayler | Mark/Ysolt Tayler |
| 2014 | Bards & Blades | Venetian | | Sarra the Brave |
| 2013 | Arts & Sciences Championship | Andalusian ** | Eden Rain | Bergdis Thorgrimsdottir |
| 2013 | Ermine Cross Bardic | Le Menagier de Paris | | Ysolt Tayler |
| 2012 | Baronial Banquet | English Reformation | Ysolt Tayler/Eden Rain | Ysolt Tayler |
| 2012 | Arts & Sciences Championship | German | | Bergdis Thorgrimsdottir |
| 2012 | Ermine Cross Bardic | Roman/Apicius ** | | Etienette de Montagne |
| 2011 | Baronial Banquet | Medieval Venetian** | Ysolt Tayler/Eden Rain | Ysolt Tayler |
| 2011 | Culinary Symposium | Spanish Favorites | Ysolt Tayler/Eden Rain | Ysolt Tayler/Eden Rain |
| 2011 | SCA Board of Directors Social | Assorted Favorites | | Bergdis Thorgrimsdottir |
| 2011 | Ermine Cross Bardic | Main Dish Egyrdouce | | Etienette de Montagne |
| 2011 | Emprise of the Black Lion Equestrian Tourney | Assorted Favorites | | Ysolt Tayler |
| 2010 | Baronial Banquet | Spanish ** | Eden Rain | Mark |
| 2009 | Baronial Banquet | High Medieval | Ysolt Tayler | Etienette de Montagne |
| 2009 | Lionhearts Tournament | Menagier Picnic | Eden Rain | Etienette de Montagne |
| 2007 | Baronial Banquet | Scottish/French | Allyson Sgro | Ysolt Tayler |
| 2007 | Arts & Sciences Championship | Andalusian** | | Tim |
| 2006 | Baronial Banquet | Italian Renaissance** | Eden Rain | Eden Rain |
| 2006 | Arts & Sciences Championship | April Fools/Illusion | Ysolt Tayler/Eden Rain | Ysolt Tayler |
| 2006 | Field of Cloth of Gold | Assorted Favorites | | Allyson |
| 2005 | Lionheart's Tournament | Assorted Favorites | | Ysolt Tayler |
| 2005 | St. Bunstable Spring Fling Lunch Buffet | French | | Rowenna de Manning |
| 2005 | Baronial Banquet | Low Countries Renaissance | | Anne-Marie d'Aillieurs |
| 2004 | Arts & Sciences Championship | Conjectural Norse Dinner | | Eden Rain |
| 2004 | Baronial Banquet | Roman/Apicius** | | Rowenna de Manning |
| 2003 | Baronial Banquet | Silk Road III**: Venice/Baghdad/Mongolia | Genot Boulanger/Jen Witsoe; Eden Rain; Kerij-e | Genot Boulanger/Jen Witsoe |
| 2003 | Arts & Sciences Championship | 14th century French** | | Ysolt Tayler |
| 2002 | Baronial Banquet | Elizabethan Revisited ** | | James the Cook |
| 2002 | Arts & Sciences Championship | Moghul Indian Dinner ** | | Eden Rain |
| 2001 | Baronial Banquet | Spanish ** | | Eden Rain |
| 2000 | Baronial Banquet | Tudor** | | James the Cook |
| 1999 | Harvestfest | The Cookbook of Sabina Welserin | James the Cook and Bergdis Thorgrimsdottir | James the Cook and Bergdis Thorgrimsdottir |
| 1999 | Baronial Banquet | Best of Culinary Guild Feast | | Anne-Marie d'Aillieurs |
| 1998 | Winter's Inn | Italian Dinner** | | Eden Rain |
| 1998 | Baronial Banquet | German RenaissanceMenu List | | Rowenna de Manning/Anne-Marie d'Aillieurs |
| 1998 | Twelfth Night Lunch | Light lunch for 500 | | Anne-Marie d'Aillieurs |
| 1997 | Baronial Banquet | Elizabethan** | | Anne-Marie d'Aillieurs |
| 1997 | Lionhearts Tournament | Medieval English/French** | | Anne-Marie d'Aillieurs |
| 1996 | Arts & Sciences Championship | Middle Eastern Dinner | | Eden Rain |
| 1996 | Baronial Banquet | French Rennaissance of La Varenne** | | Teresa |
| 1995 | Baronial Banquet | Roman/Apicius: Menu List | | Eden Rain |
| 1995 | Arts & Sciences championship | 13th century Andalusian | | Anne-Marie Rousseau |
| 1995 |  Viking Birthday Bash | Viking | | Janelynn of Fenmere |
| 1994 | Council of Crowns | Favorite Renaissance dishes for Crowned Heads and their retinues | A dinner for 50 | Fiona |
| 1994 | Baronial Banquet | Italian buffet | | Kelly |
| 1993 | Baronial Banquet | Silk Road II: China/The Caucasus/the Balkans | Alwyn, Fiona, Rowenna | Rowenna de Manning |
| 1992 | Baronial Banquet | French | | Fiona |
| 1991 | Baronial Banquet | Late 16th century Spanish with New World foods | Alwyn, Rhonwen | |
| 1990 | Culinary Ithra Dinner | English Renaissance Favorites | Fiona, Randell | Fiona |
| 1990 | Baronial Banquet | European Picnic & Masque | | Alwyn |
| 1989 | Kingdom Twelfth Night | French Food | | Jean-Louis de Chambertin |
| 1989 | Baronial Banquet | A Hunter's Feast | | |
| 1988 | Baronial Banquet | Elizabethan | | Rhonwen |
| 1988 | New World Banquet | Aztec with Spanish influence | Alwyn | Alwyn |
| 1988 | A Merchant's Feast | English | A benefit banquet | Rowenna de Manning |
| 1988 | Baronial Championship | Hunters Feast | | Seonaid |
| 1987 | Baronial Championship | | | Anne of Caerdydd |
| 1987 | Baronial Banquet | Silk Road I: Scandinavia/Russia/Mongolia | | Rowenna de Manning / Randell Raye |
| 1987 | Italian Renaissance Supper | Italian Renaissance | A benefit banquet | |
| 1986 | Baronial Banquet | Holdenby Hall Banquet. Northern European Renaissance | | |
| 1986 | Baronial Championship | Scandinavia and Finland | | |
| 1986 | Renaissance Banquet | Northern European Renaissance | A benefit banquet | |
| 1984 | Royal Banquet of 52 Dishes | English and French Renaissance | | |
| 1984 | Baronial Investiture Banquet | Medieval English, Victorian Welsh, & original dishes | | Rowenna de Manning |
| 1982 | Brittannia Banquet | English 17th century | | |
| 1982 | An Tir Kingdom Twelfth Night Banquet | Medieval English and French | | Rowenna de Manning/Arias the Innkeeper's Daughter |
| 1981 | Battle of Hastings Picnic | North European | | |
| 1981 | Wedding Feast | Medieval English | | |
| 1981 | Samhain Dinner | North European | | |
| 1980 | Baghdad Banquet for the University of Ithra | Middle Eastern | | Rowenna de Manning |
| 1980 | Wedding Feast | Medieval English | | Rowenna de Manning |
| 1980 | 14th Century Feast - University of Ithra Session | Medieval English | | Rowenna de Manning |
| 1980 | Mount Baker Banquet | Pleyn Delit, To the King's Taste, and other sources | A benefit banquet | |
| 1979 | Baronial Banquet | Pleyn Delit, To the King's Taste, and other sources | | |
| 1979 | Valfrieborg Banquet at Coronet Tourney | Pleyn Delit, To the King's Taste, and other sources | | Roger the Goliard/Rowenna de Mamning |
| 1979 | May Crown Tourney at Camano Island | A Roast Pig | | Roger the Goliard |
| 1979 | Kent Commons Banquet | Pleyn Delit, To the King's Taste, and other sources | A benefit banquet | Rowenna de Manning/Portia Maire/Fiona |
| 1978 | Principality Twelfth Night Banquet | Pleyn Delit, To the King's Taste, and other sources | | Allysen of Dunrobin |